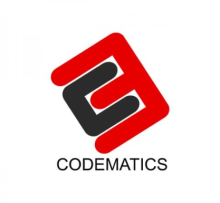 Codematics Inc. is among the fastest growing IT companies in Pakistan with their products being used by millions of people throughout the world. Their mission & vision encompasses a peaceful and safe world for us all, and for our future generations. In this regard, they are working towards making strong and tolerable communities using IT as a base by taking a holistic approach towards simplifying and solving issues that we daily experience in our lives. Also, with a diverse team of innovative and energetic entrepreneurs, together they are working towards growing the digital economy of Pakistan. Their team of professionals has expertise in developing entertaining games, mobile applications, 3D Modeling and animation, Graphic designing, Digital Marketing, and research and development.

SERVICE AREAS:
 Mobile applications development.
 Web development and Designing.
 Desktop applications Development.
 ERP implementation & Consulting.
 IT infrastructures.
 IT education & training.
 Environmental Protection
 Research and Development.